services
Client Benefits
We are one of the few firms in India that understand the interplay between the technical cyber world, complex investigation techniques, and legal tactics. These unsurpassed skills allow us to be highly efficient in solving your legal cyber needs.
Reliable, scalable and resilient solutions
Strong converted evidences
Commitment to service delivery
Complete privacy assured
Entire spectrum of cyber investigations
24 x 7 availability
Protect public relationships
Avoid costly duplication of effort
Pristine InfoSolutions is the only company in India, which provides a comprehensive cyber crime investigation services and solutions to prevent, detect and resolve growing cyber crime, frauds and security incidents including digital forensics.
The global nature of the Internet has allowed criminals to commit almost any illegal activity anywhere in the world causing monetary and non monetary losses to individuals, organizations and governmental entities. In order to tackle these new breed of cyber crimes, we at Pristine InfoSolutions delivers comprehensive technical services to support domestic and international cyber crime investigations.
Over the years we have served wide variety of people and organizations with our cyber crime investigation service which includes businesses, companies, individuals, celebrities, executives, corporations, independent consultants and many more in India and across the globe.
Pristine's Cyber Crime Investigation services aims to ensure that the evidence collected in the process of a forensic investigation from any electronic communication media should be able to withstand legal scrutiny providing our clients with a seamless and holistic solution in the most complex cyber crime scenario. Pristine InfoSolutions is backed by Cyber Security Professionals and highly certified staff which has the ability to take immediate action, as per the varied needs of our clients and solve our clients Information Security challenges with absolute discreet confidentiality.
After a complete report of the incident is made and the source of the attack can be identified, all the information obtained during the investigation process can be transmitted to law enforcement agencies to begin the legal process. The most common types of fraud and cyber crime incidents we investigate are: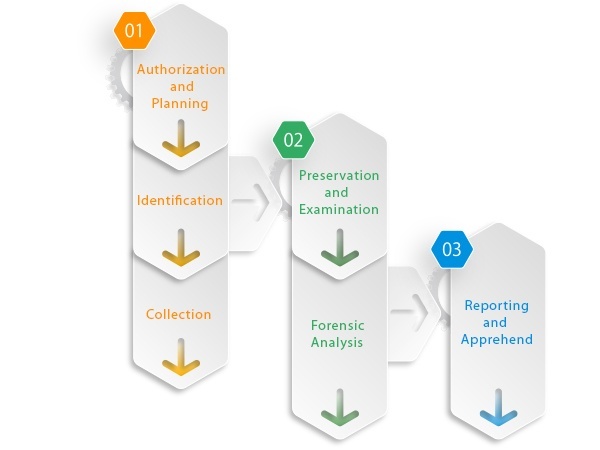 Tracing Attacker
Fraudulent Transactions
Web Hijacking
Online Identity Theft
Denial of Service Attacks
Social Network Crime Investigation
Insider Attacks
E-mail Tracking
IP Tracking
Stock Manipulations
Credit Card Frauds
Computer Forensics
Mobile Forensics
Harassments and Stalking
Software Piracy
Net Extortion
Phishing
Financial Frauds