services
Client Benefits
With cutting edge technical and legal expertise, we have a record of winning 100% of the cases where we acted as Legal consultant for our clients.
Liberated consultation
Commitment to service delivery
Comprehensive Legal Process
Experienced and Empowered Lawyers
Precise guidance and documentation
Pristine InfoSolutions is one of the pioneer cyber law consultants in India practicing IT Act, 2000 Compliance for corporates, government, organizations and individuals delivering legal cyber law expert services headquartered in Mumbai.
To execute complex challenges of the modern Cyber world, Pristine InfoSolutions delivers top-notch legal Cyber Law consultancy services to individuals and corporates in the areas of Information Technology and Communications law and policy as well as all aspects of electronic commerce.
Pristine InfoSolutions aims to contribute to the ever evolving cyber legal jurisprudence and emerging legal issues pertaining to Cyberspace, Internet and the World Wide Web. We provide legal services to appropriate individuals, organizations, small start-ups, non-profit groups and government entities regarding cutting-edge issues of the Internet, new technology and intellectual property.
We help our client to identify and protect their trademark and stop the infringement done via cyber squatting. Bringing a combination of management consulting, technical expertise, and operational knowledge of cyber law, we help individuals and organizations to address their toughest problems. We represent clients in online domain dispute resolution cases administered under the ICANN Uniform Domain Dispute Resolution Policy. The only authoritative way to research UDRP opinions is to read the cases themselves, all of which are published online at http://www.icann.org/udrp/proceedings-list.htm. However, we make it simple by our expertise in Jurisprudence of Cyber Law.
Thus, we excel in cyber law consulting, cyber forensics, IT/Network Security Audit and Compliance and cases like software licence piracy, Uniform Domain Name Dispute Resolution (UDRP), Trademark infringement, Copyright infringement, patent, credit card and online frauds, telecom etc. including: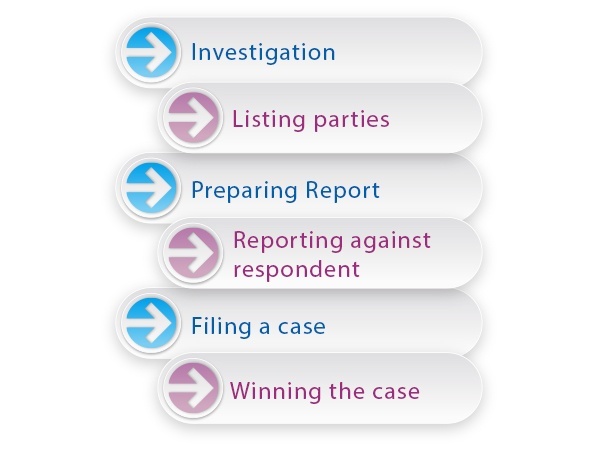 Computer Intrusions
Corporate Misconduct
Copyright and Trademark Infringement
Embezzlement and Extortion
Advanced Fee Scams
Product Liasoning
Domain Name Dispute Resolution
IT Act, 2000 Compliance
Defamation, Litigation
Intellectual Property Rights (IPR)
ISP liability issues
Antipiracy and Data Theft