services
pen-testing benefits
Penetration testing should be performed on a regular basis which evaluates an organization's ability to protect its networks, applications, endpoints and users from external or internal attempts to circumvent its security controls to gain unauthorized or privileged access to protected assets.
Intelligently manage vulnerabilities
Mitigate security risks
Increase business continuity
Preserve corporate image and brand
Evaluate security investments
Intelligently prioritize remediation
Avoid the cost of network downtime
Protect public relationships
Pristine InfoSolutions is among the top most companies in India providing comprehensive penetration testing services to organizations by conducting real-world assessments across a broad spectrum of risk areas.
Pristine InfoSolutions is one of the most trusted and well-established penetration testing companies in India, who have been consistently delivering best penetration testing portfolio to its clients using its intellectual capital and expertise.
Web holes have resulted in the theft of millions of credit cards, major financial loss, and damaged reputations for hundreds of enterprises. The number of computers compromised by visiting web sites altered by attackers is too high to count. Penetration testing is the exploitation of vulnerabilities present in an organization's network or web-portals. Security issues uncovered through the penetration test are presented to the system's owner. Effective penetration tests will couple this information with an accurate assessment of the potential impacts to the organization and outline a range of technical and procedural countermeasures to reduce risks.
We specialize in the whole spectrum of penetration testing capabilities – right from information gathering, foot-printing, vulnerability assessment, exploitation and reporting. We use comprehensive penetration testing methodology and ensure to perform real-world attacks with utmost sophistication to make sure no loophole is left behind. We generate a detailed report of the vulnerabilities and help clients to patch those vulnerabilities in-order to protect themselves from advanced attacks.
Penetration testing helps the organization's to safeguard themselves against failure and prevent financial losses through fraud (hackers, extortionists and disgruntled employees) or lost revenue due to unreliable business systems and processes. We ensure by helping organizations to put in place all the effective controls that will mitigate all types of online attacks.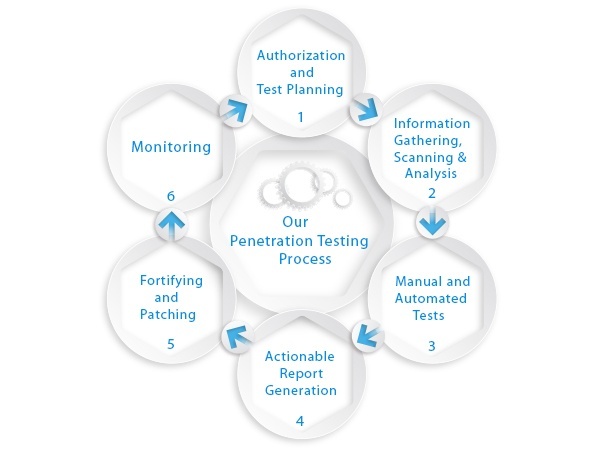 our approach
Our Penetration testing services combine both manual and automated techniques to ensure any organization's sensitive data is properly protected and that compliance requirements are being met. We present the vulnerabilities and risks to the organization by performing a real-world attack and recommendations are delivered for remediation with a detailed report depicting a complete view of IT Infrastructure Security. From developing a detailed plan, to performing the test and providing a full report, Pristine InfoSolutions has the expertise to help improve any organization's security posture with best industry standards and practices.